Discreetly Get the Smile of Your Dreams with Invisalign®!
To learn how your smile can benefit from Invisalign® in Boise, Idaho, schedule a consultation with our dentist, Dr. Pottenger. Call High Desert Dental at 208-343-4732 today! We offer free consultations during which we will use digital technology to show your possible before and after comparison.
Request An Appointment
Why Choose Invisalign®?
Invisalign® uses a series of custom-made, removeable aligner trays to move your smile to its ideal position. Invisalign can be used to treat the same issues that are treated with metal braces. Our doctors may recommend Invisalign to correct:
Receding gums
Chipping teeth
Uneven bite
Overbite, underbite, open bite, or crossbite
Crowded teeth
Crooked teeth
Gaps and spaced teeth
Sensitive teeth
Jaw Pain
This treatment is great for both teen and adult patients! Because the aligners are removable, there are less dietary restrictions and keeping your teeth clean with brushing and flossing is easy! There are no wires to floss through or brackets to collect plaque build-up. You will never have an emergency visit from pinching/poking wires or brackets cutting your cheeks and lips! We welcome everyone to call or visit us today to learn more about Invisalign and how they can enjoy a straight smile.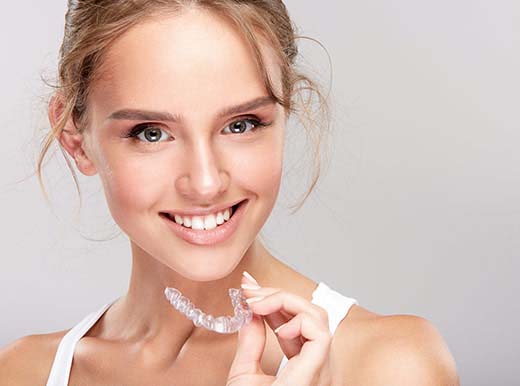 How It Works
Invisalign® is a great choice for our patients who are searching for a more discreet orthodontic treatment option. Rather than using metal brackets and wires like traditional braces, the Invisalign system uses a series of custom-made, computer-generated plastic aligners to straighten your smile. Each set of aligners is designed to make small changes to the alignment of the teeth. As you switch sets of aligners about every two weeks, your teeth will be gradually, gently guided to their proper positions. You will also visit our office on a regular basis during treatment to make certain that your smile is progressing as planned.
Ready to get started?

Ask us about our financing options!